Intersection Accidents – St. Louis Intersection Accidents
St. Louis Intersection Accidents
The Hoffmann Law Firm, L.L.C.
Whether you are traveling on a highway, country road or local street, intersections are planned points of conflict. Intersection accidents often result in fatalities or serious injuries.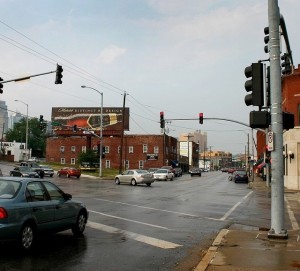 Each year in the United States, millions of people are killed or seriously injured due to intersection accidents. Pedestrians, motorists and bicyclists are all at an increased risk for injury or death while passing through an intersection.
Though intersections are controlled by traffic lights or signs, they become dangerous when people are negligent or reckless while driving through them. When a person fails to adhere to the traffic laws, they may be held accountable for the accidents and injuries they cause.
If you or a loved one have been
injured in an intersection accident
due to the negligence or recklessness of another person, you may have cause for legal action.

Causes of Intersection Accidents
St. Louis intersection accidents can happen for a wide variety of reasons. However, some of the most common reasons include:
Speeding
Distracted Driving
Driver Fatigue
Poor intersection design
Drunk Driving
Too many intersection crashes occur because of a person's failing to yield to the right-of-way. In Missouri, a person is permitted to turn right on red after coming to a complete stop, unless there is a sign stating otherwise. When the driver turns, they have to stay in the far most right hand lane and are supposed to yield to all traffic, including pedestrians and bicyclists, that are moving through the intersection. This is just one of the laws that governs the activity through an intersection.
St. Louis Intersection Accident Lawyer
The Hoffman Law Firm, L.L.C., is dedicated to
getting the maximum compensation for injury victims
in Missouri and Illinois. After a serious injury or the loss of a loved one in a car or truck accident, you need to know that someone is on your side, protecting your rights and presenting an effective case to the insurance company. Without a strong advocate, you may not receive the financial compensation you need and deserve after a car, truck, motorcycle, bike or pedestrian accident.
At
The Hoffmann Law Firm, L.L.C.
, we focus our law practice exclusively on handling accident injury cases. With more than 15 years of experience, no case is too complex for attorney Christopher Hoffmann. Our goal is to secure maximum financial compensation for your physical and emotional recovery. Call us today at
(314) 361-4242
.
photo credit via Flickr: ChrisM70
Share and Enjoy
Google+